I have been wanting to try a Bourjois nail polish for ages now, but have always been put off because they are near enough double the price of the Barry M ones I usually go for. However, Superdrug had a 3 for 2 offer on (I don't know if this is still on as I bought these over a week ago) and so I decided to take advantage of this and get 3 Bourjois polishes for the price of 2.
I bought 2 polishes from the "So Lacque Ultra Shine" range, which I think is a relatively old range now, and one from their new "10 Day Nail Enamel" range.
"Painting your nails is now hassle-free" is what Bourjois claim of the 10 Day Nail Enamel. There are 12 shades available in the range, and each one comes with an angled brush which is supposed to make application easier and also allow you to touch-up your nail polish if you get any chips. Now, even though this is called a "10 Day Nail Enamel", Bourjois don't actually claim that it lasts for 10 days with just one application. What they actually claim is that the polish will last 10 days "with touch-ups". This is where the angled brush comes in. The angled brush supposedly makes it easier to touch up your polish without getting those annoying chip marks that appear when you touch up with a regular nail polish brush.
The polishes also have a "pro-sillicum formula". Now I'm not actually sure what this is but I do know that it is supposed to act as a "protective barrier to protect nails from chipping, and make them up to 2x stronger".
The shade I got was number 26 'GUIMAUVE' (the shade name isn't actually on the bottle - I found it on the Boots website).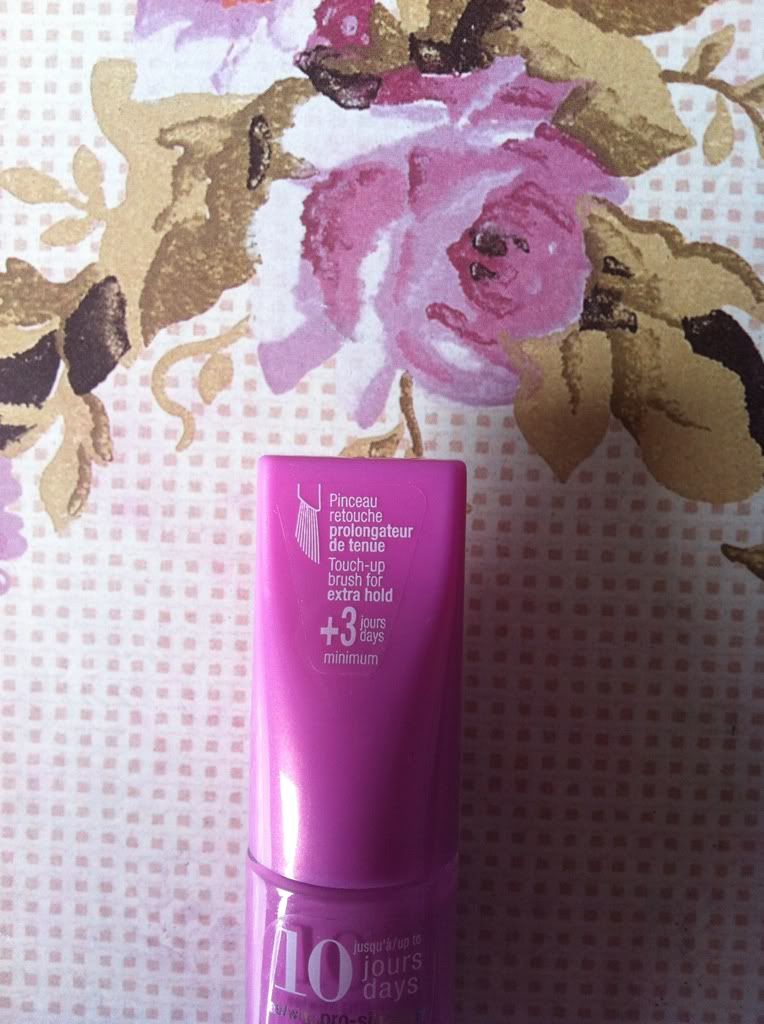 Number 26 is a pinky-purple colour which actually is quite unique. I don't own anything else that is similar to this colour which is what drew me to it in the first place.
The packaging is fairly normal for a nail polish - the only difference is that the lid is actually slightly curved which makes it easier to hold in my opinion. The angled brush was actually really awkward to use. It made it difficult to get an even line near the cuticles and I found it gave quite an uneven finish on the overall nail, but this was fixed with another coat. The formula of the polish is good, it's slightly thick but I think this may have something to do with the "pro-sillicum formula".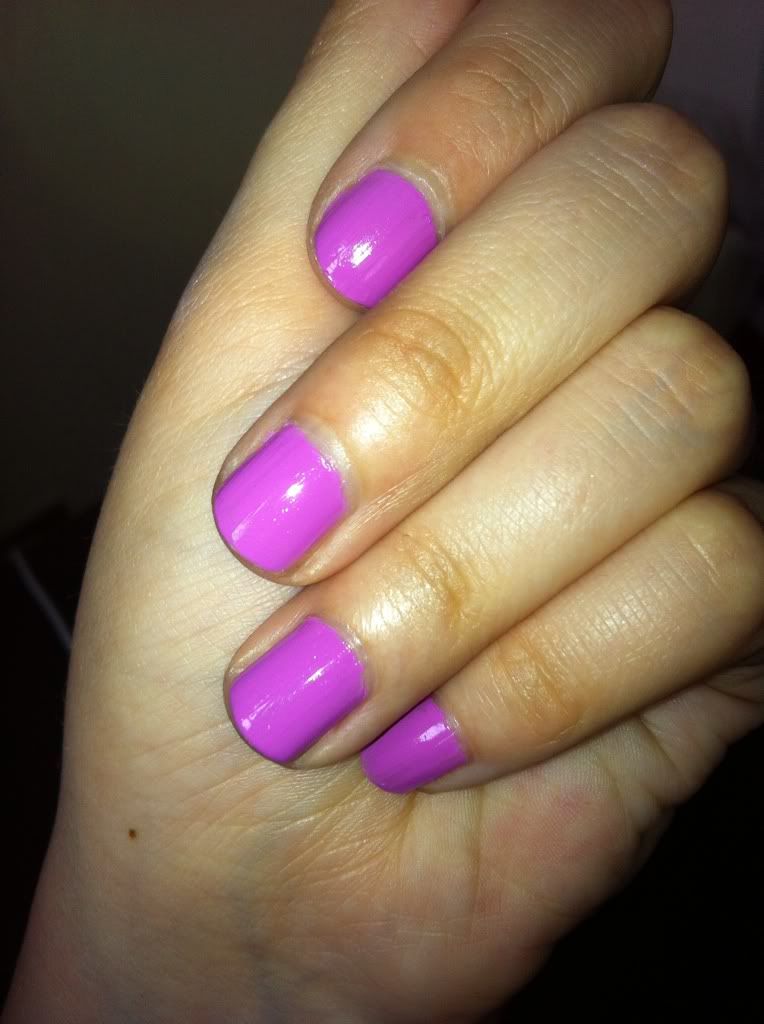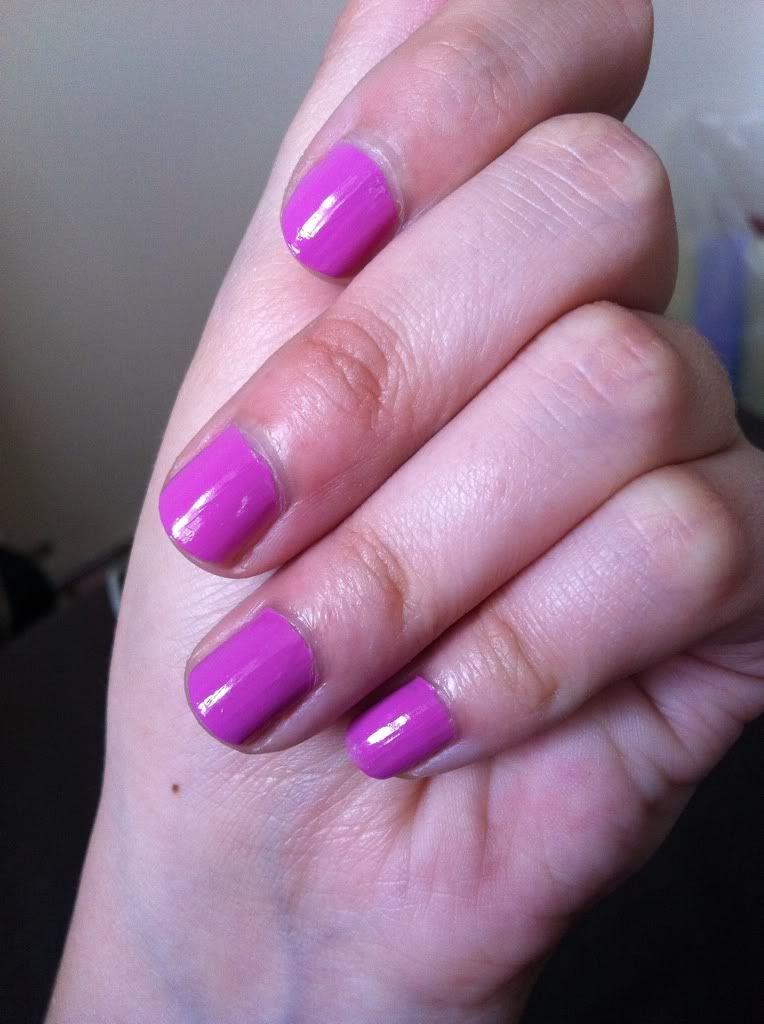 I really like the colour of this polish, it's quite bright without being too 'in your face'. The images above are 2 coats of the polish.
When dry, this actually has quite an odd feel to it, it was almost rubbery, which I put down to the sillicum in the formula. The day that I applied this, I went to work, and when I had finished, there were no chips to be seen, and no noticeable tip wear, which is unusual as I normally have quite noticeable tipwear from rummaging around in a till all day. I normally change my nail colour quite often but I decided to leave this on and see if it lived up to the "10 days" claims. This wore for about 3 days before I felt I needed to touch it up, and when I did touch it up, the chip marks were almost fully covered, which was impressive. Obviously, they were visible if you got reallly close to them, but even from just a short distance away they looked fine. I carried on touching them up most days after this as I found that they chipped more easily after you had touched them up, and overall I think I had this colour on my nails for about 7 days, which I personally think is really good. I change my nail colour quite often anyway, so I don't find that I need long-lasting nail colour, but if you hate changing your nail colour, these would be perfect for you. The shade range is good as well, there is a wide range of colours so I'm sure everyone would be able to find a shade they would wear.
They also claim that the polish makes nails 2x stronger. I can't comment on this as I used Sally Hansen's Miracle Cure as a base coat which makes my nails stronger anyway.
Bourjois 10 Day Nail Enamel is available for £5.99 from

Boots

and Superdrug (they're not on the Superdrug website so I can't link them sorry!).