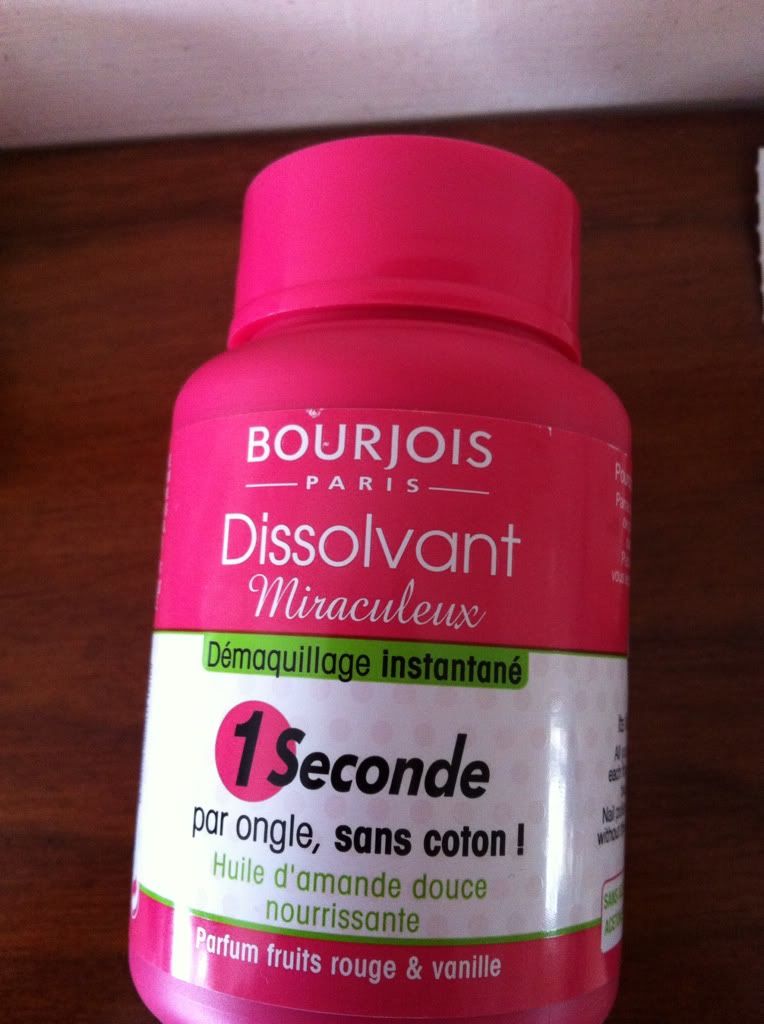 (Totally didn't realise until after that I'd taken a picture of the French side!! Sorry).

Most of you will have heard of this - there has been a lot of blog posts floating around about this and as I paint my nails quite often and hate the removal stage, I thought I'd try it out. I actually had a similar thing which I picked up in a Home & Bargains but the sponge was white and obviously, it got dirty very quickly!
This is Bourjois Magic Nail Polish Remover. It is essentially a sponge with a hole cut out placed inside a container. It claims to remove nail polish in 1 second, without the need for cotton wool, and claims to have a scent of "Red Fruit and Vanilla". Now, I sniffed it when I opened the tub and it smells very strongly, exactly like normal nail polish remover. Needless to say, I was quite disappointed UNTIL I removed my nail polish, and my fingers smelt amazing afterwards! As soon as you take your finger out of the tub, you smell this amazing scent which lingers on your skin for quite a while after too. Obviously this is not going to be everybody's cup of tea but I like it.
Also, it's worth mentioning that the formula is acetone free and paraben free, meaning it's safe to use on natural nails as well as gel nails and acrylic nails, and doesn't contain paraben which can be harmful to you. Always a good thing :)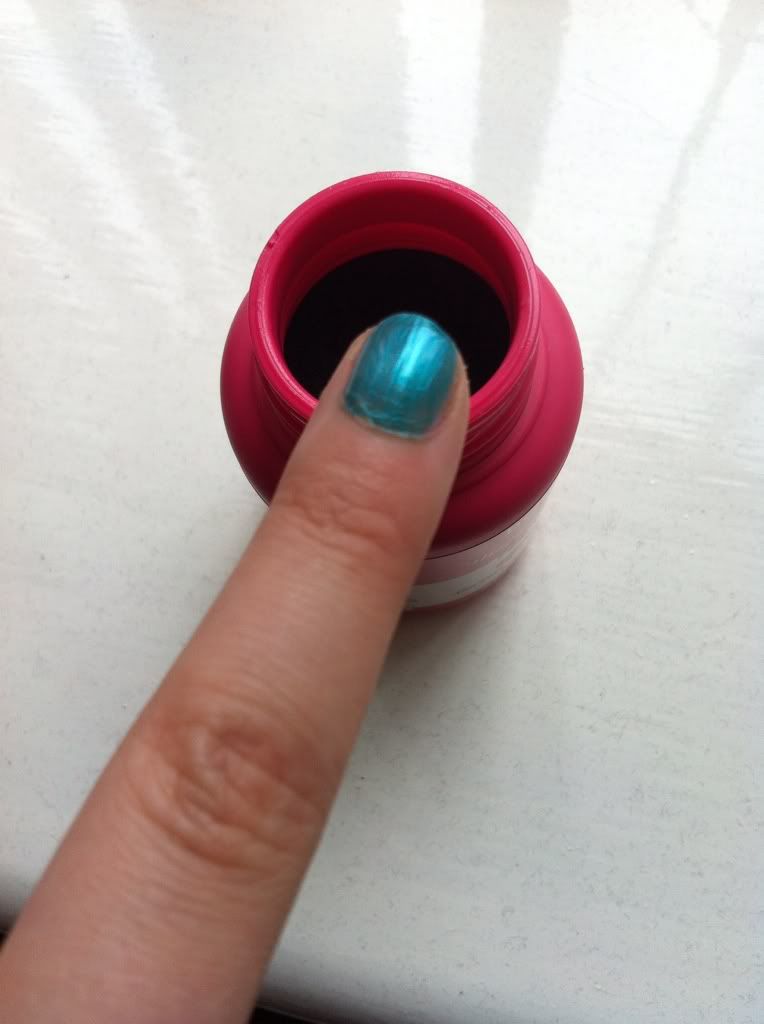 This is my finger before removal (obviously). Excuse the poorly painted finger, I painted it simply to test this out, I'm actually sporting naked nails this week to give them a break from polish :P.
This is the after I had twisted my finger round in the pot. When I simply put my finger into the spomge and took it out again, the polish was still there. However, I put my finger back in and twisted it round and removed and this is what I ended up with. There are still some traces of nail polish around my cuticles but this was removed with one more twist.
I found that this actually left a greasy residue on my fingers after I had used it :S I don't know if anyone else has experienced this? So I had to use some cotton wool to remove this, hence the claim of "removal without the need for cotton wool" was inaccurate for me. Also, if I am being 100% honest, it doesn't take 1 second to remove all of the polish. Granted, it doesn't take ages, but I dislike it when brands make claims that are not true.
Overall, I did quite like this. It is a fuss-free method of removal and the only thing I didn't like was the greasiness I mentioned, which is not a massive issue. I probably would repurchase it as I think it is a fair price, considering you are in effect paying for polish remover, and however many cotton wool pads you would normally use. The concept is actually really good, but like I have mentioned, not unheard of.
This is available for £4.99 from

Boots

and Superdrug (though I can't find it on their website to link). However, it's sold out in quite a lot of places now - my Boots didn't have any and I grabbed the last one from Superdrug so availability may be an issue while everyone wants to try this.
Have any of you tried this? What did you think?
xx
UPDATE - After using this for a couple of weeks I should probably update this post with a few things.
1) I wouldn't recommend this for the removal of glitter nail polishes, especially chunky glitters (e.g. model's own Ibiza Mix) because after removing them, you WILL get your fingers covered in glitter everytime you use the product again. The glitter comes off easily if you just rinse your hands afterwards, but it's still quite annoying. Looking back this seems quite obvious tbh, but just thought I'd put that out there.
2) If you have any small cuts etc on your fingers, you may find that this does make them sting. Again an obvious point but what I do is use this for the removal of my polish, but any fingers that may have a cut on them, I use a cotton bud dipped into regular nail polish remover.
Hope this helps :) x