It feels like ages since I last wrote a post, even though it was only Tuesday. I suppose it's because I'm used to writing nearly everyday, but I've been super busy this week. I start a placement at a local primary school next week which I am so excited about, but also really nervous. I'm sure it will be fine though :)
I had been seeing lots of reviews about Eyes, Lips, Face (or ELF as they are more commonly known) and had a cheeky browse on their website one day last week. I was amazed by how cheap the stuff on there was. I ended up buying 3 nail polishes, a foundation brush and something called a 'zit zapper' which I'm really hoping works since I've been having a few breakouts recently :( This post is just going to be about the nail polishes though.
I'm always cautious about buying cosmetics online, as I want to see them in person before I buy them in case I don't like the colour etc. Seeing as though the nail polishes were only £1.50 each (!!!) I decided I had nothing to lose and bought them anyway.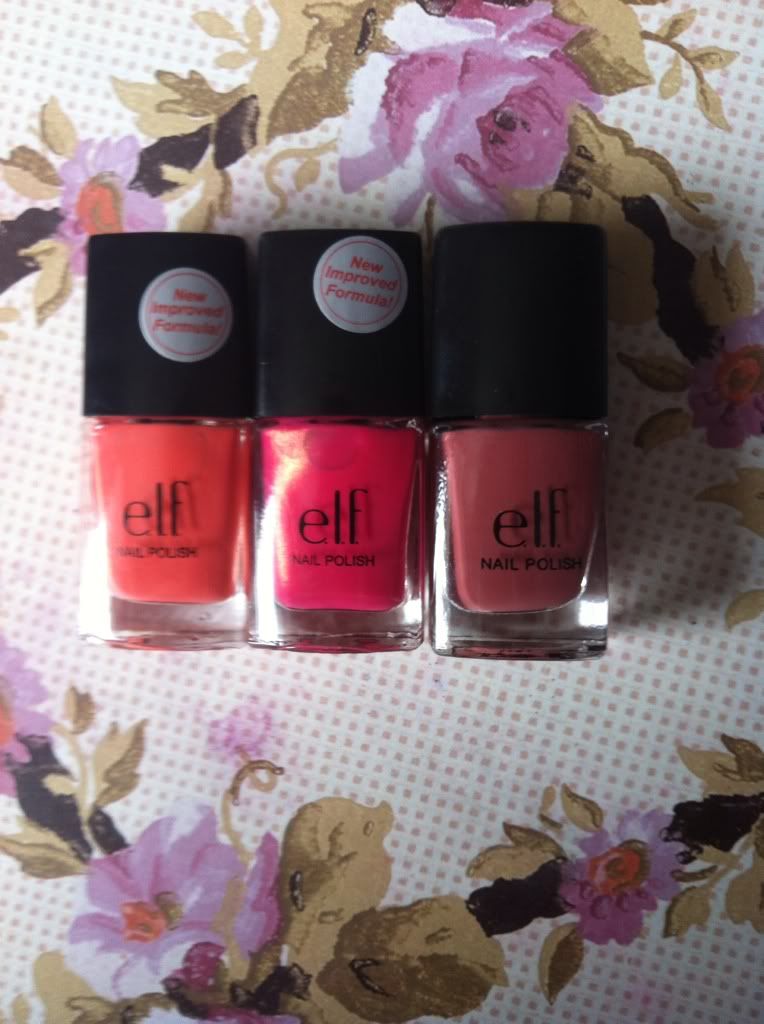 The shades I chose were (L-R) Mango Madness, Pink Passion and Mod Mauve.
Mango Madness is an orange/coral coloured creme with no hint of shimmer, Pink Passion is a pink polish with gold shimmer, and Mod Mauve is a browny/mauve coloured creme again with no shimmer.
The above pictures show one coat of each polish.
One thing I will say is that ELF should really review some of the swatches on their website! The colours I got, Mod Mauve especially, look different to their online swatches. Luckily for me, I do like the ACTUAL colours so no harm done there.
I was actually really surprised at the quaity of these. They are very well pigmented, and extremely easy to work with. The consistency is a little on the runny side but this had no effect on the application. Mango Madness in particular definately only needed one coat, the other colours 2 coats would have been better. There is quite a lot of colours to choose from on the ELF website, I only got 3 because it was my first order and I wasn't sure if I was going to like them, but based on these I will definately be getting some more.
As I have only just swatched them I can't comment on how long they last, but to me, even if they only last a couple of days, they are still amazing quality for the price.
I ordered these on Monday, and chose standard delivery at the checkout. The website claims they will aim to dispatch all orders within 48 hours, but by Wednesday evening I had heard nothing. However, just as I remembered about the order, I recieved an email apologising for the delay, and estimating that my parcel would be sent out on Thursday. This was a nice touch as it meant I knew they had not forgotten about my order, they were simply rather busy. I recieved an email on Thursday evening saying my parcel had been dispatched and delivery would take 1-5 working days. And voila, my postman knocked on the door this morning (Friday) with my parcel! Yay!
I would recommend ELF to anyone, the quality is beyond amazing for the prices!
Have any of you tried ELF before?