I actually received this Soap & Glory set for Christmas from my parents, and I was going to post about it ages and ages ago but never got round to it, so I thought seeing as you can buy all these products individually throughout the year I'd do a mini review of each of them.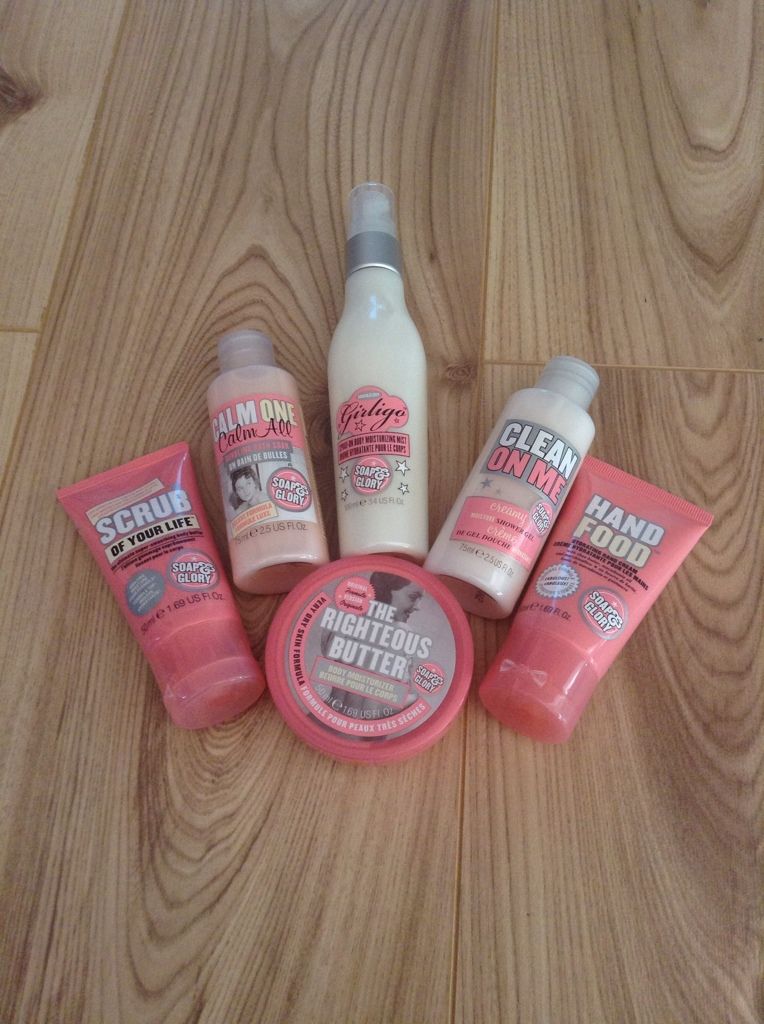 The set I received was "Shower Trip", which contained minis of 'The Scrub of Your Life', 'Calm One, Calm All', 'Girligo', 'Clean on Me', 'Hand Food' and 'The Righteous Butter'.
This is one of Soap & Glory's most popular body scrubs, and I can definitely see why. It's scented with the traditional S&G fragrance, which I personally like but I know it's not to everyone's taste. It's not a particularly harsh scrub so it's good for daily use and it works really well. It's good for smoothing the skin and keeps your skin feeling silky smooth all day.
This is a bubble bath which S&G claim to have a "built in body lotion". It foams up really well when you pour it into your bath water, and it does seem to make your skin feel moisturised after use, however I do tend to still use a body butter afterwards! It smells lovely too, and the bubbles last for ages in your bath water!
This is the product that confused me most! It's marketed as a 'body moisturising mist', but after finding this out I was still none the wiser! I think it's basically just a moisturising liquid which you spray all over the body after you've showered or had a bath, and I must admit that despite being slightly baffled by it at first, it actually is a really good product! It smells lovely and makes your skin extremely soft and moisturised without leaving your skin feeling greasy!
This is one of S&G's best selling shower gels. As with all of these products, it smells beautiful. It's slightly different from a 'traditional' shower gel, it's more of a shower creme, but it works wonders for making your skin soft. It lathers up really nicely too, so you really feel as if your skin is getting cleaned thoroughly!
Ah, Hand Food. I have used this for an absolute age now and I am always grateful for a backup supply of it! In case you don't know (or didn't guess from the name of it), Hand Food is a hand cream! I may have a slight obsession with hand creams, but this is by far my favourite and is one I always seem to end up repurchasing, no matter how many others I try! It sinks into the hands really quickly and leaves them feeling moisturised for hours. I honestly suggest everyone tries this asap!
I actually have already done a more in-depth review of this which you can read here, but this is one of my all-time favourite body butters. It's amazing for moisturising and soothing the skin, and the skin remains that way for the entire day. I actually prefer this body butter to the infamous Body Shop ones!
As you can see, I am a huge fan of every single product in this set. In fact, I'm just a huge fan of Soap & Glory in general. I do love all of these products, but it's not necessary to have them all at the same time, as a lot of them do similar jobs, but I guess it's nice to chop and change products every once in a while!