Don't get me wrong, I am no expert on skincare, but it is something I am slightly obsessive about because to me, having clear skin is important. Up until recently, I had been using the Clean & Clear Deep Action Cream Wash (review
here
), but lately I had been experiencing a few breakouts, and I thought maybe I should try a new face wash. I picked up this one when I was in Tesco a few weeks ago and so far I have been really liking it. I can see a difference in my skin already (and I know it's down to this product because this was the only change I made to my skincare routine).
I should point out that I have dry-normal skin, so I cannot comment on the effect it would have on oily skin etc.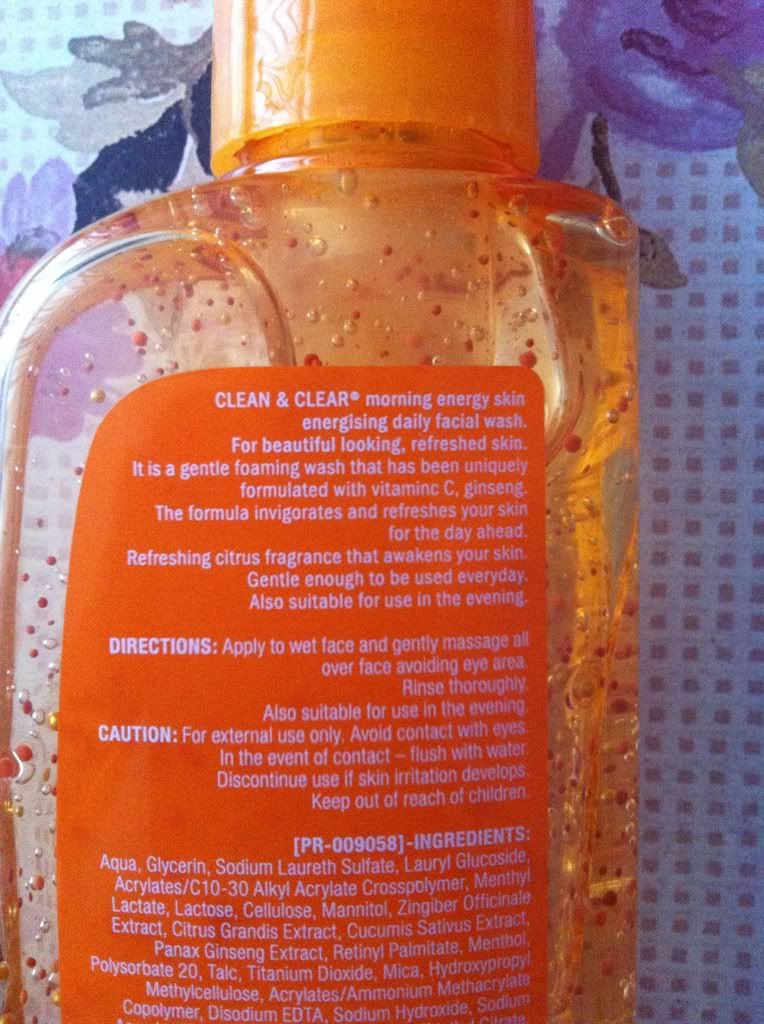 Apologies for the bad quality pictures - it was dark when I took them and I didn't realise quite how bad they were until they were on my laptop.
This face wash is an orange coloured gel with yellow and orange "bursting beads" in it. To be honest, I can't say the beads make much difference to the actual product other than making it look nice! They don't always burst on the face so many of them just get rubbed around your face a bit, then washed off when you rinse. Also, Clean & Clear describe this as a "gentle foaming wash" which I would have to disagree with. On me, it doesn't really foam at all!
Now, onto the good points. This claims to "wake your skin" which I do agree with. It tingles slightly (but not in an unpleasant way) when you first put it on your face, and the citrus-y smell is also good for waking you up first thing in the morning! It feels like a very gentle wash, though I don't have very sensitive skin!
Within the first few days of using this I noticed my skin looked fresher and brighter, and the amount of spots I had reduced quite quickly. I would recommend this to someone with dry-normal skin like myself, as it doesn't make your skin any drier, as I have found that some face washes do, nor does it make your skin oily (again, some washes I have tried did!).
Another thing to note about this is that the ingredients list is rather long, so if you're into natural products, this probably won't be for you.
All in all, I would repurchase this. I have seen a difference in my skin, and I think it lives up to it's claims of awakening the skin. The beads don't add much to the effect of the product, but doesn't it look cool!
This is available from

Boots

(£3.99),

Superdrug

(£3.99),

Tesco

(£3.90) and all major supermarkets. 150ml bottle.