I have been a fan of the Body Shop body butters for ages now, I first tried the mango one about 3/4 years ago and I loved it. I have tried almost every one of them now, and I nearly always go back to the mango one, but when it came to repurchasing a few weeks ago, I decided it was time for a change and chose to buy the shea one instead. I picked up the body butter and the body scrub - this is actually the first scrub I've tried from the Body Shop so I thought I'd give you my opinion on that whilst I was doing a review of the body butter.
I really like the packaging of these - they haven't changed too much in the time I've been purchasing them, and so the packaging makes them instantly recognisable to me (although I think they have changed the picture on the front of this since I purchased it). I like the image on the front of the tubs, as you can see which butter/scrub is which without too much difficulty.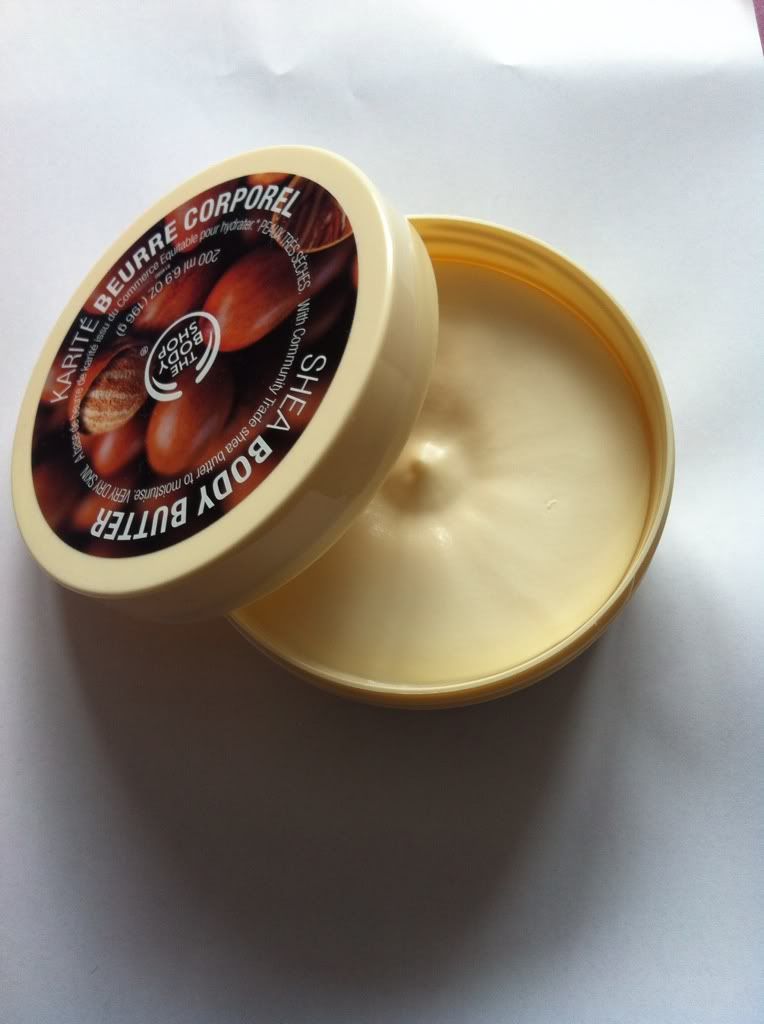 The body butter is described by the Body Shop as "a feast for the skin". It claims to give 24 hour hydration and be great for dry skin. I used this when I got back from my holidays, so naturally my skin was very dry from all the exposure to the sun. This gave my skin lots of moisture, and I could still see the effects of the butter 12 hours later, which to me is impressive because most moisturisers I have tried last only a few hours. It is a thick formula, but I think this makes it easier to work with and it doesn't create a sticky mess when you apply it. It sinks straight into the skin, leaving no greasiness.
The scent of this one isn't particularly strong, it's described on the Body Shop website as a "subtle nutty scent" which I think sums it up perfectly. From experience, the coconut and mango body butters have quite strong scents, so if you're not fond of overpowering scents, this one would be a good one to go for :) I really like the Body Shop body butters, and I can't see myself switching moisturisers anytime soon.
As I mentioned before, this was the first body scrub I have tried from the Body Shop, and overall I am really liking it so far. It is quite similar to Soap & Glory's "Flake Away" (review

here

) in terms of texture. It's quite a thick exfoliator, but it isn't too harsh on your skin. That being said, I probably wouldn't use this everyday as my skin doesn't really agree with that much exfoliation! You can use this on wet or dry skin, although obviously it is harsher on dry skin.
I think this is a really good exfoliator - it gets rid of dry skin and generally reawakens the skin. The body butter is great to use after this as it really soothes the skin. The smell of the scrub is the same as the body butter - a pleasant, subtle scent.
I can't recommend this range enough. If the smell of the Shea ones isn't your thing, there are plenty of other smells to choose from, and from my own experiences, they are all of a similar high quality.
I will definately be repurchasing these when they run out. They aren't particularly cheap but I really do think they are worth the money.
They both retail at £12.50 for 200ml.