Just to start with, I always get confused as to the proper name of Collection 2000?! I thought it was meant to be changing to just Collection but I believe this is a fairly new release and it says Collection 2000 on the bottle?! Ah, confused. I'll use Collection 2000 in this as that's what the product says :)Anyway, on to the product in hand.
Collection 2000 have recently brought out a primer (
Primed and Ready
) and a make up fixing spray called "Fix Me Up". I had actually been looking for a relatively cheap make up setting spray as I wanted to see if they worked, and so this came at a good time for me. I saw the stand in Superdrug and so I picked one up. I didn't get the primer as I'm still using the Revlon one I reviewed
here
.
Fix Me Up is described as "a weightless mist that adds radiance and keeps make up in place for longer". The packaging is quite nice in my opinion, it's a black bottle with hot pink writing with the instructions on one side. It may be tacky-ish for some but I like it :)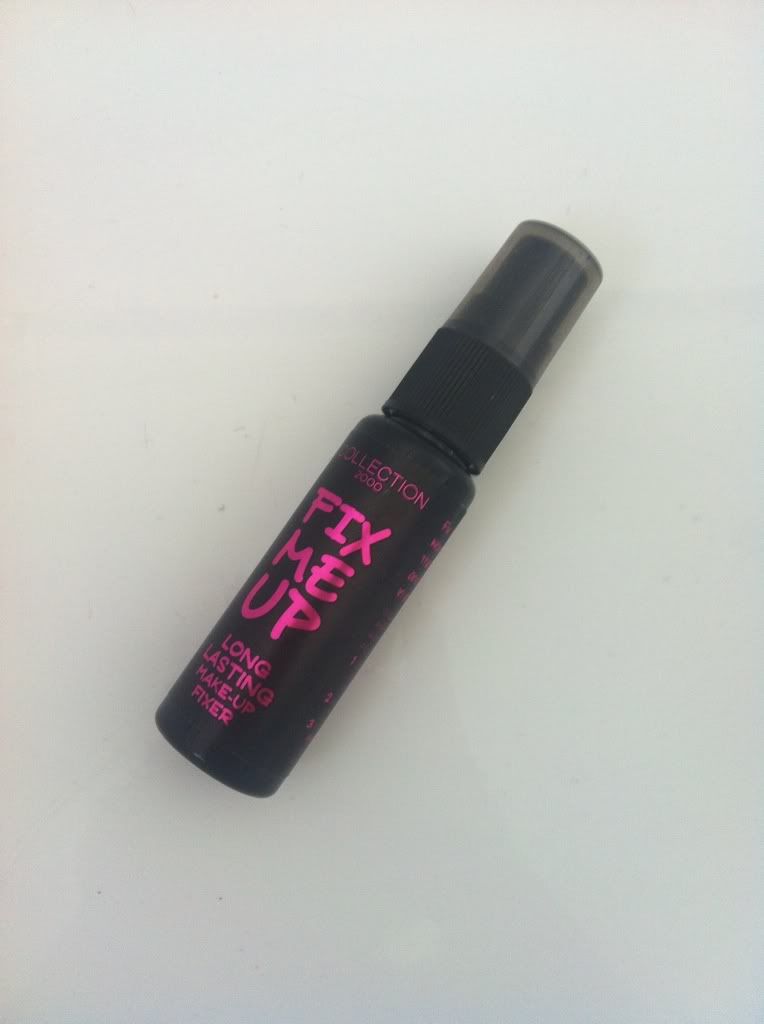 That picture is terrible, haha! This is supposed to be the side with the instructions on. Basically, it just tells you to hold the spray 20-30cm away from your face and apply 2-4 sprays.
The product has a slight scent to it when it first comes out of the bottle, which I know will put some people off as scented products often make people break out etc etc. It's not an unpleasant smell, but it's also not one that I am particularly fond of, but it's ok as it disappears after about 10 seconds of spraying it.
I was intreged to know if it actually helped to keep your make up in place for longer, and after using t for around a month now, I believe that it does. When I apply this, I generally get around 2-3 hours more wear out of my make up than when I don't use it, which is good. I know there are more expensive setting sprays out there which probably make it last even longer but my budget doesn't stretch that far haha!
Overall, I do like this and would probably repurchase it. The only downside really is the smell, but this was not too much of an issue for me. This is priced at £5.99 for 18ml from
Boots
and
Superdrug
.