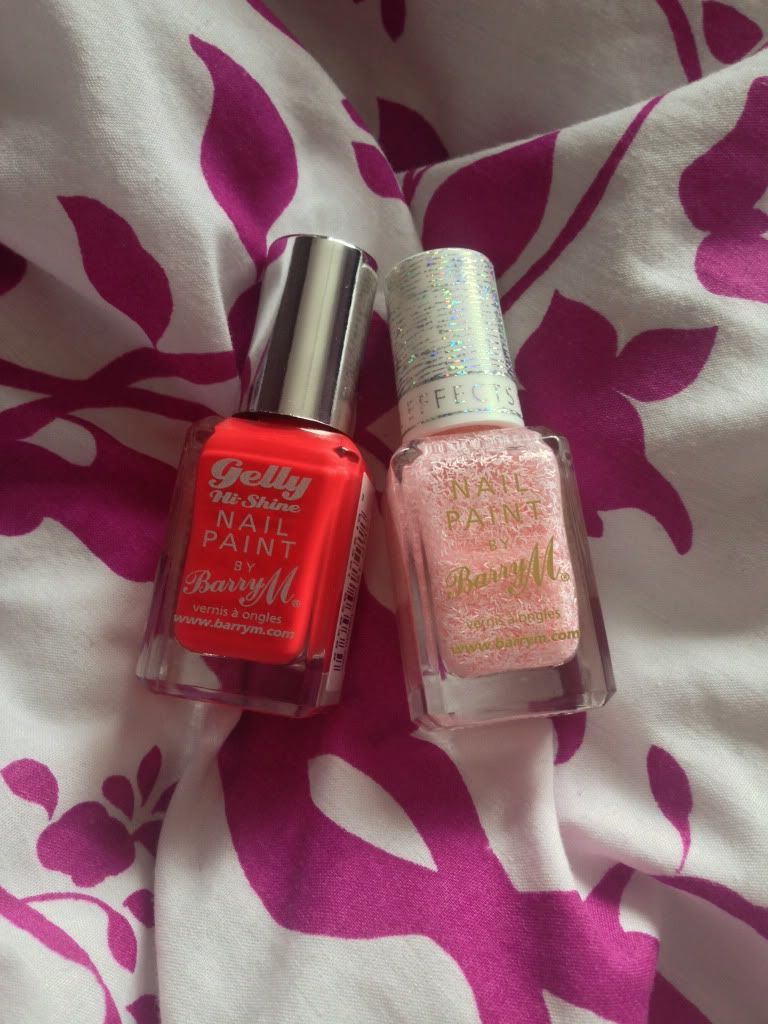 (L-R 2 coats of passionfruit; 2 coats of marshmallow over passionfruit)
Barry M are probably my all-time favourite brand when it comes to nail polish. They have such a wide range of colours and always seem to be one of the first in line when it comes to bringing out cool 'nail effect' polishes.
Passionfruit is a new release from their 'Gelly' nail polish line, which if I'm honest, I wasn't a huge fan of. I found them a lot more gloopy than the regular Barry M polishes, and found they took an absolute age to dry. However, I really liked the colour of Passionfruit, so I put my doubts to one side and I'm really glad I did. It's a beautiful pinky-red colour, which is absolutely perfect for summer and will look amazing with a tan. This isn't gloopy in the slightest, it's really easy to work with, and you can even get away with only applying a single coat, although I tend to apply two just because I'm fussy! It dries to a really high-shine finish, and I found it lasted a good 3/4 days without chipping.
The Confetti Nail Effects line is also a new release, and I wasn't sure if I'd like the effect at first, but again this one has pleasantly surprised me. I think it gives a really cool effect to the nail, without being too 'in your face'. It dries amazingly fast, although you will need to apply a couple of layers of topcoat if you want to achieve a smooth finish over this. I have the shade 'Marshmallow' which is a pink bar 'confetti' suspended in a clear base. I think this is the most subtle one of the range - other colours include: Dolly Mixture - a blue, peach and yellow confetti, Liquorice - black and white confetti, Bubblegum - blue and white confetti, and Sour Apple - blue and yellow confetti.
These are both £3.99 and available from Boots and Superdrug.